History of the Convention
The Stamps Scholarship represents over 900 Scholars across 37 institutions. To encourage learning and collaboration among the national network of Stamps Scholars, the Stamps Scholars Programs sponsors a convention every two years. During this remarkable weekend event, Scholars come together to learn from business, nonprofit and university thought leaders to share ideas and present the results of their ongoing enrichment and academic activities.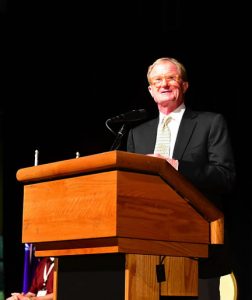 The most recent in-person Convention was held in 2019 at Georgia Tech and marked the fifth biennial Stamps Scholars National Convention. In addition to threads and service challenges, Scholars took part in panels, talks, and symposiums and heard from former NFL coach-turned-lecturer, Daron K. Roberts as well as retired Navy Admiral James A. "Sandy" Winnefeld, Jr. and S.A.F.E. co-founder Mary A. Winnefeld.
In 2021, the University of Illinois held our very first fully-virtual Convention due to the COVID-19 pandemic. This Convention was able to host events including Scholar Expo, Scholar Talks, new Problem-Solving Pods to discuss broad issues affecting the world, and more. The Convention held speeches from Dr. Rashid Bashir, Dean of The Grainger College of Engineering at the University of Illinois, Dr. Roe Stamps, and Randy McDow.
From March 30 – April 2, 2023, Georgia Tech will once again host an in-person Stamps Scholars National Convention in Atlanta, Georgia. This event will see the return of familiar events such as Threads, Scholars Expo, Talent Show, Scholar Soiree, and a Keynote Dinner in addition to new events such as Community Engagement and a new Keynote Panel.
Why Attend?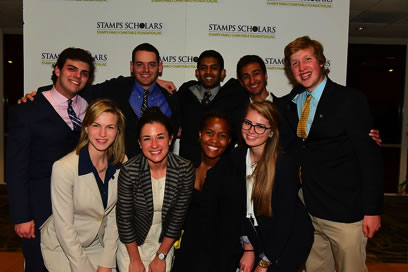 This unique opportunity will provide the chance for Stamps Scholars from all over the nation to come together to learn from various leaders of the Atlanta community and beyond. The weekend offers the rare occasion to connect and work with students from a multitude of institutions, while networking with business and other leaders in the process. Furthermore, the convention will provide Scholars occasions to break into smaller discussion groups, each focused on a different specific topic. These groups will then attend pertinent lectures, tour locations relevant to their topic, and discuss and help formulate potential solutions to real-world issues. This weekend represents the opportunity to connect with others, form invaluable contacts, and obtain hands-on experience in fields of interest.
What are the threads?
The 2019 Threads will again offer the unique occasion for Scholars of various disciplines to delve into specific topics that are impacting our world. Scholars will divide into groups with defined topics. Students will then spend time in discussion concerning these subjects, providing them not only the opportunity to grasp a new topic, but also the chance to connect and network with other Stamps Scholars from all over the country. Participants will have the chance to hear from prestigious guest speakers and field experts, participate in thought-provoking activities, and take part in impactful group discussions. Past Threads have featured many remarkable and interesting topics, ranging from "Living in an Energy Crisis" to "The Intersection of Art, Music, and Society.
What is the Stamps Service Challenge?
The 2019 Stamps Service Challenge will give scholars the chance to explore and interact with community service-oriented challenges related to their particular Threads. These various service challenges will be performed hand-in-hand with community partners around the city of Atlanta, either through consulting-based planning or through hands-on service activities.
About Georgia Tech
One of the nation's leading research institutions, Georgia Tech is located in the heart of Atlanta, Georgia. The university strives to focus on interdisciplinary research in order to improve the human condition through advanced science and technology. The institution is well known for its strong partnerships with various companies and industries. Furthermore, the school is recognized for its well-rounded education through various community service activities. Georgia Tech offers over 600 student organizations to its over 35,000 students, along with the benefits of a Division I athletic program.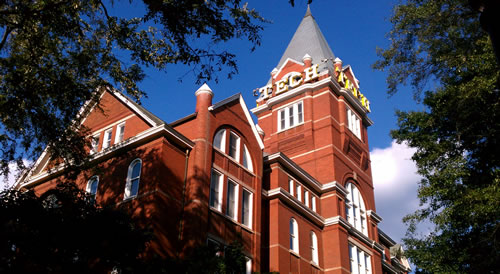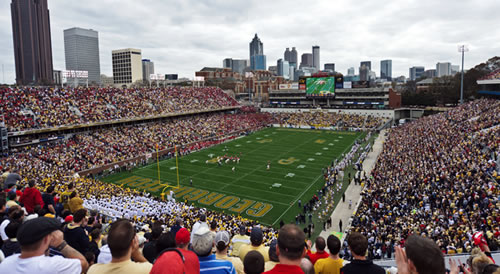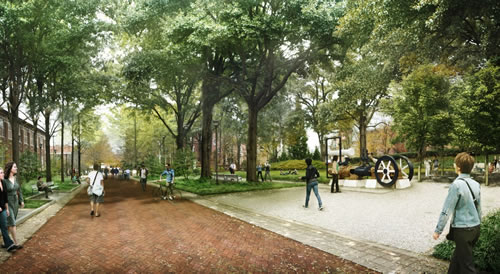 About Atlanta
Atlanta is the most populous city in Georgia, serving as the capital of the state. It is commonly known for its culture as a cosmopolitan city with a Southern backdrop. Home to three different professional sports teams, Atlanta is the 7th most visited city in the country. The city even served as the host of the 1996 Olympics. Some of the area's most iconic landmarks are the Fox Theatre, Piedmont Park, and The Varsity restaurant.